Learn to Sail Part One
The first part in the Learn to Sail series. This course is open adults of any ability. Graduates are eligible to take Learn to Sail Part 2.
Product Description
Part One of our Learn to Sail course covers the fundamentals of sailing. We'll teach you how to rig and unrig the boat, leave and return to the dock safely with a bit of guidance, and adjust your sails and rudder to make the boat go where you want it to go. This is the first half of the complete course, and perfect if you just want to try out sailing without committing to the full 24-hour Learn to Sail course, you prefer a more relaxed pace, or your schedule can't accommodate two consecutive weekends.
In twelve hours, you'll learn enough to get you off to a good start, and you'll probably find that you can sail with confidence with just a little bit of help from an instructor.
Schedules
Learn to Sail Part One runs on the following schedules:
A single weekend Saturday & Sunday, from 10-4:30 each day, with a half-hour lunch break
In 3-hour intervals over 4 weekday evenings (Monday/Wednesday or Tuesday/Thursday) – Subject to enrollment minimums
Practical skills covered in the course
How to use weather forecasts to evaluate sailing conditions
How to board a sailboat, do an equipment safety check, and prepare to sail
How to rig, derig, and secure the boat to the dock
How to safely leave and return to the dock
How to maneuver the boat: starting, stopping, controlling speed, steering, tacking, jibing, getting out of irons, etc.
How to handle control lines and trim sails
How to depower sails if the wind picks up
How to tie the knots you'll need
How to read a nautical chart of Boston Harbor (intro level)
How to apply the right of way rules
How to recognize and navigate around aids to navigation
Knowledge
Sailing terminology
Basic sailing theory
Points of sail
Right of way rules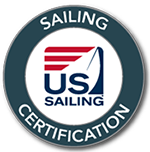 Get your US Sailing Certification
Our curriculum is aligned with the US Sailing Basic Keelboat Curriculum. You can see the entire US Sailing Keelboat Curriculum which includes part 1 (this course) and part 2 Here
US Sailing Curriculum