Product Description
Learn to Sail in two Weekends
If your goal is to become a competent, confident sailor with a solid understanding of the basics, this is the learn to sail course for you! At the end of the two-weekend class, most students are ready or almost ready to skipper one of our Rhodes 19 keelboats on their own. Your instructor, who will always be in the boat with you and up to two fellow students, will guide you through the sailing fundamentals, combining short chalk talks and extensive on-the-water coaching to help you develop and reinforce new skills. You'll learn all you need to know to rig and unrig your boat, leave and return to the dock safely, adjust your sails and rudder to make the boat go where you want it to go, understand the basics of how sailing works, and tie some important knots (always a good way to impress your non-sailing friends!).
By the end of this hands-on, learn to sail course, most students are ready for a Red or Yellow Flag skipper rating, which means they can safely skipper a small keelboat in light to moderate conditions without an instructor. Students who earn a Yellow Flag rating can also take a written test to obtain their US Sailing Basic Keelboat certification, a standard recognized throughout the U.S. and in many other parts of the world.
Schedule
Basic Keelboat Complete courses take place over two consecutive weekends, Saturday/Sunday/Saturday/Sunday from 10-4:30 each day, with a half-hour lunch break.  A new course starts almost every Saturday.
Practical skills covered in the course
How to use weather forecasts to evaluate sailing conditions
How to board a sailboat, do an equipment safety check, and prepare to sail
How to rig, derig, and secure the boat to the dock
How to safely leave and return to the dock
How to maneuver the boat: starting, stopping, controlling speed, steering, tacking, jibing, getting out of irons, etc.
How to handle control lines and trim sails
How to depower sails if the wind picks up
How to recover a crew overboard
How to tie the knots you'll need
How to read a nautical chart of Boston Harbor (intro level)
How to apply the right of way rules
How to recognize and navigate around aids to navigation
Knowledge
Sailing terminology
Basic sailing theory
Points of sail
Right of way rules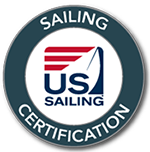 Get your US Sailing Certification
You can see the whole US Sailing Keelboat Curriculum Here:
US Sailing Curriculum
---
Want a Discount?
Save $395 when you purchase the Learn to Sail class and a Core Fleet membership.
Pick your Learn to Sail class and add it to your cart
Next, add either a Full Individual or One-Month Core Fleet Membership
Use code combo1 at checkout
---