After School Sailing
Courageous Sailing is once again pleased to offer kids in grades 3-6 the opportunity to sail on Boston Harbor in the late spring. Students will have the opportunity to learn to sail or improve their sailing skills over multiple sessions in May and June. Beginning sailors will sail on stable Rhodes-19 sailboats.
Registration for 2017 will open Monday, April 10, 2017.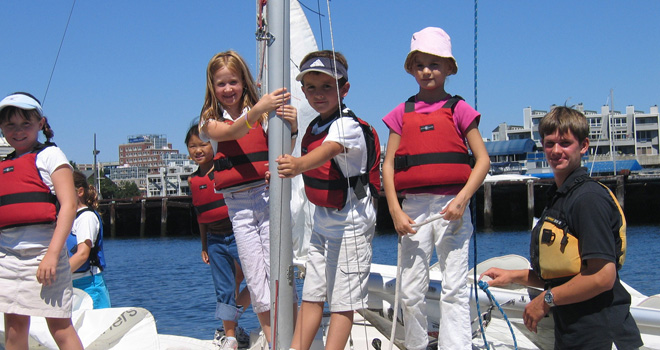 Schedule
All classes meet from 4:00 PM-6:30 PM, from late May through June (the 2017 calendar will be posted soon), including Memorial Day. Students attending the Warren Prescott and Harvard-Kent will be picked up by Courageous instructors after school and walked to the Courageous Sailing boathouse on Pier 4 in the Charlestown Navy Yard to begin sailing. Elliot School students must make their own way to Courageous Sailing. Please note that, in the event of rain or other inclement weather, classes may be cancelled. Courageous Sailing will endeavor to contact families no later than 12 pm on the day of class in the event that class must be cancelled.
Restrictions
This program is free of charge and open to current students at the Warren Prescott, Harvard-Kent, and Eliot Elementary schools who are currently in grades 3-6. Note: youth attending other schools may be admitted on a space-available basis. Each student is limited to attending one session, either Mondays, Wednesdays, or Fridays.
To Register
(1) Complete our online registration form: Registration for 2017 will begin Monday, April 10, 2017.
(2) All students must complete a waiver form and submit a proof of swimming form by May 15.
Complete the waiver form online, here.
Download the proof of swimming form here.
Questions?
Contact our Youth Program Director, Toni Sacco, toni@courageoussailing.org, or 617-242-3821 x12.