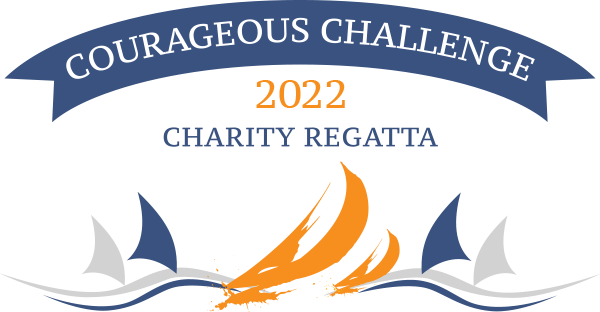 ---
The Courageous Corporate Challenge brings Boston-area companies of all sizes together to race on company-sponsored boats on Boston Harbor. Join us for some friendly competition in support of Courageous Sailing's Summer Youth Program!
Courageous Challenge Charity Regatta
The Challenge is back in 2022!
The warm weather and late sunsets of June herald the Courageous Corporate Challenge. Over four successive Mondays, seasoned and novice racers alike set sail from the Charlestown Navy Yard, enjoying fast-paced, college-style, short-course keelboat racing. Back on land, participants enjoy terrific food, drinks and camaraderie.
2022 marks Courageous Sailing's 35th anniversary, as we celebrate the growth and evolution of our programs to meet community needs over the years. Our programs have never been more vital, helping Boston kids recover from the stress and learning interruptions of the past two years and allowing metro Boston residents of all ages to enjoy their harbor. This season, we are facing a new challenge: the temporary closure of our Pier 4 home for repairs. We are committed to doing whatever it takes to provide our community with the high-quality programs they depend on Courageous for, and we welcome your help! The generosity of our Challenge teams supports the Courageous mission and the kids we serve.
6/06 Race Night 1
6/13 Race Night 2
6/20 Race Night 3
6/27 Race Night 4 + Awards
Results, documents and contacts
---
2022 Results- coming soon
Your company can decide to use your Corporate Boat as a weekly perk and rotate the crew for each night of sailing, or draft a dedicated team of employees for the entire Challenge and try to win it all. Either way, it's sure to be a memorable experience and a fulfilling way to spend a Monday evening supporting Courageous' mission.
With one boat, 2-4 Challenge team members can enjoy each evening of competition and fun; two boats accommodates 4-8 team members at a time. Your company's logo will be proudly displayed on the jib sail of each of their boats. Employees will be able to access the fleet, take advantage of discounts on lessons, and participate in member events all season long through the included corporate membership. And, last but definitely not least, you'll be providing a summer of fun and learning for Courageous kids!
Courageous Corporate Membership
Equivalent to a full-season, individual Rhodes 19 membership, but shareable by your whole company!*
included with company entry
treat your family, friends, & clients
enjoy member benefits
discounted sailing courses
continue racing on Tuesday nights
*Limit one boat at a time
The work Courageous does has never been more vital, and we have never needed the generosity of our donors more, in order to keep the Courageous experience available to all.
At Courageous, kids from all walks of life come together to learn, challenge themselves, and experience the joys of sailing. Your company's participation in the Courageous Challenge helps ensure equitable access to our youth programs, along with free meals, school bus transportation, ongoing swimming lessons, and access to on-staff social workers for students in need. Almost 60% of our sailors participate for free or receive partial scholarships. Swim Sail Science, our free Boston Public Schools summer learning program, serves approximately sixty economically disenfranchised students each year, many of whom would not otherwise have had access to their harbor or the sport of sailing. Extensive evaluation confirms that young people in Courageous programs strengthen their confidence, academic engagement, and life skills like teamwork, responsibility, and leadership. Over the decade or more that Courageous kids spend with us, they build skills that will take them far beyond Boston Harbor.
2022 Corporate Challenge Registration