Adaptive Sailing at Courageous
Courageous partners with a variety of adaptive sailing programs to make sailing accessible for adults and children living with special needs. Whether it's taking a nonverbal 4-year old with severe autism for his first sail or hosting training programs for blind and Special Olympics racing champions, Courageous is committed to adaptive sailing. If you or someone you know wants to sail and has a particular challenge that might require special accommodations, let us know and we'll be happy to work with you to make it possible!
Special Olympics of Massachusetts (SOMA) Adaptive Sailing Program
The sailing teams of Special Olympics Massachusetts (SOMA) have been guests of Courageous Sailing since the early 1990s. SOMA begins weekly practices shortly after Courageous opens for the season in May, using the Rhodes 19 fleet, and sails through early fall. Sailing is a "Unified Sport" in Special Olympics, meaning there are generally two athletes with intellectual disabilities as well as two volunteer coaches, called Unified Partners, in each crew. SOMA sailors progress from Level 1, where a Partner skippers the boat over half the time and athletes work the sails, to Level 3, there are three athletes who race the boat and one Unified Partner, who may only advise on tactics and strategy. Many of the SOMA athletes who train here have progressed from their first sail ever to being skillful crew members and competitive skippers. SOMA sailors, some of whom have participated for close to 30 years, gain in self-confidence and enjoy being part of a close-knit community. SOMA racers regularly take the gold in regional and national regattas!
Contact jen@courageoussailing.org if you or someone you know is interested in participating as an athlete or (for confident sailors only) a Unified Partner.
Boston Blind Sailing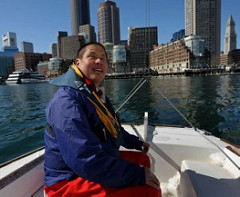 Boston Blind Sailing is a community of blind and visually impaired sailors and sighted guides working together to sail at a highly competitive level. Boston Blind Sailing participants, ranging from beginner racers to world-class veterans, race and practice at Courageous.
Ensuring that blind and visually impaired sailors have access to the sport has been a part of Courageous's mission since our founding, and we're honored to continue that legacy today. You can learn more about the competitive world of blind racing through the documentary Sense the Wind at: www.sensethewind.com.
Charlestown Adaptive Sailing Days
Each year in June and September, Courageous organizes and runs Charlestown Adaptive Sailing Day, in cooperation with the Friends of the Navy Yard, Spaulding Rehab, and Piers Park Sailing Center. Adaptive Sailing Days are an opportunity for adults and kids with any sort of disability to come out for a free one-hour sail with family, friends, and an instructor from Courageous Sailing or Piers Park Sailing Center. A hoyer lift and physically adaptive boats are available for participants who use wheelchairs. Lunch is generously provided by Spaulding Rehab.
In the years that we've been hosting this event, it has proven to be an incredible experience for instructors, participants, and family members alike. In the words of one mom affiliated with Special Townies, a Charlestown grassroots organization serving children with autism or special needs and their families, being on the water is "just about heaven." Another mother noted that her son would happily sail all day if given the chance. Clients of Spaulding Rehabilitation Center have enjoyed the chance to get out on the water, too. With every event we host, more people from all over Massachusetts become part of the community of people who look forward to Adaptive Sailing Days every year.
Please join us for a fun afternoon of sailing and good company!
Dates & Times
The September 24 sailing day has been RESCHEDULED TO SUNDAY, OCTOBER 8!
Typically, we host one weekend sailing day in June and one in October.
To Sign Up
Online registration opens approximately one month before each event.  When you register, you'll be able to choose the approximate sailing time you prefer (11:30,12:30, 1:30, or 2:30). If you are signing up within a week of the event or would like to be on the Charlestown Adaptive Sailing Day email list, please email jen@courageoussailing.org. 
SIGN UP FOR THE OCTOBER 8 EVENT HERE.
Location
Breezeway of the Harborview building, next to Spaulding Rehab Hospital, at the base of 16th Street in Charlestown.