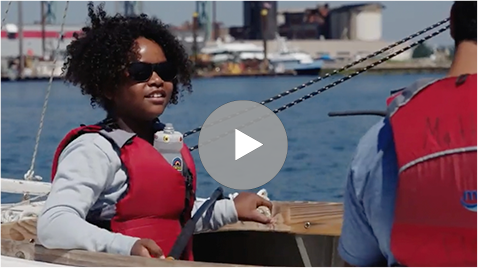 Courageous Sailing has come a long way since our inception in 1987, but our core belief has remained unchanged:


When kids get together on a sailboat, sailing is just the beginning of what they learn.


For thirty-five years, Courageous has been bringing kids from different communities and backgrounds together to experience the joys of sailing on Boston Harbor…and in the process, build teamwork, resilience, leadership, and so much more.

Thanks to the support of our community — you! — limited financial resources are never a barrier to getting involved with Courageous or the sport of sailing. Your gift of any size will help Courageous welcome even more young people, from a diverse array of backgrounds, to our programs.
Thirty five years ago, a salty South Boston sailor named Harry McDonough had a vision: use the harbor that connects Boston's disparate neighborhoods geographically to connect kids with each other and with opportunities they might not otherwise have. Harry understood the sport's unique power to foster teamwork, grit, and responsibility, and he knew the perfect flagship for the sailing center he was dreaming up: the Courageous. Harry's enthusiasm swept up city leaders, the racers and owners of the America's Cup-winning 12-Meter yacht, and a whole lot of other supporters…and the rest, asthey say, is history.


Over the years, Courageous has evolved to meet the needs of the community. As Charlestown became more gentrified, we knew we needed to do more to make access to our programs — and our sport — more equitable. Moreover, demand was growing for summer learning opportunities blending academics and fun, in response to research establishing that this type of programming is critical to addressing the summer learning loss that can leave less affluent students less ready to thrive in school than their more affluent peers.

So we established partnerships with schools serving students from underresourced neighborhoods and started a free program combining sailing, academic support, hands-on science, and swimming instruction; Swim Sail Science is still going strong today! As we identified necessary supports, we added school bus transportation, free meals, on-site social workers, year-round learning opportunities, free participation in more advanced sailing courses, and more.

Fast forward to the unprecedented challenges of the past few years. The pandemic hit our kids hard, and there is clear evidence that youth are still grappling with mental health crises and academic losses. The connections fostered at Courageous, the support of additional staff social workers, and our engaging environmental science-based academics proved to be critical in helping young people regain their academic and emotional footing. Our community has stayed strong, and even a last-minute, temporary move away from our Pier 4 home, now closed down for a year of repair, didn't prevent 2022 from being one of our best yet...thanks in large part to all who have supported us and our kids.
Courageous Sailing today is a vibrant, diverse, and supportive community. Over the decade or more they spend with us, Courageous kids become confident sailors and swimmers, strengthen academic and social-emotional skills, delve into the science of the Boston Harbor environment and their sport, and take on leadership roles. Summer scholarships, meals, school bus transportation, and the support of on-site social workers are available for anyone in need. And for over 250 students, their Courageous experience doesn't stop when the summer ends; we now partner with two high-needs Boston Public Schools to provide weekly STEM and sailing lessons. We're proud to be one of the top youth programs in Boston, not just for summer sailing, but for in- and out-of-school learning all year round.
---
"There is an incredible culture of joy and excitement…Youth are given a great deal of responsibility and are having a lot of fun while developing crucial skills like communication, teamwork, and problem solving."
---
So what comes next? As we eye the future, we hope to grow to meet the needs of every child and family who could benefit from what Courageous has to offer. We envision year-round space in which our kids can have a home away from home, rain or shine, and where our community can gather. We plan to invest even more in the school-year space, allowing for year-round supportive relationships with our students and more opportunities for teens to build workplace skills as they prepare to teach the next generation of young sailors. We must add the staff members and boats that we need so that every child who wants to sail and learn with Courageous gets their turn on the tiller. There's no way we could have come as far as we have since 1987 without the support of the Courageous community, and we are incredibly grateful. Together, we can make the next 35 years even better.