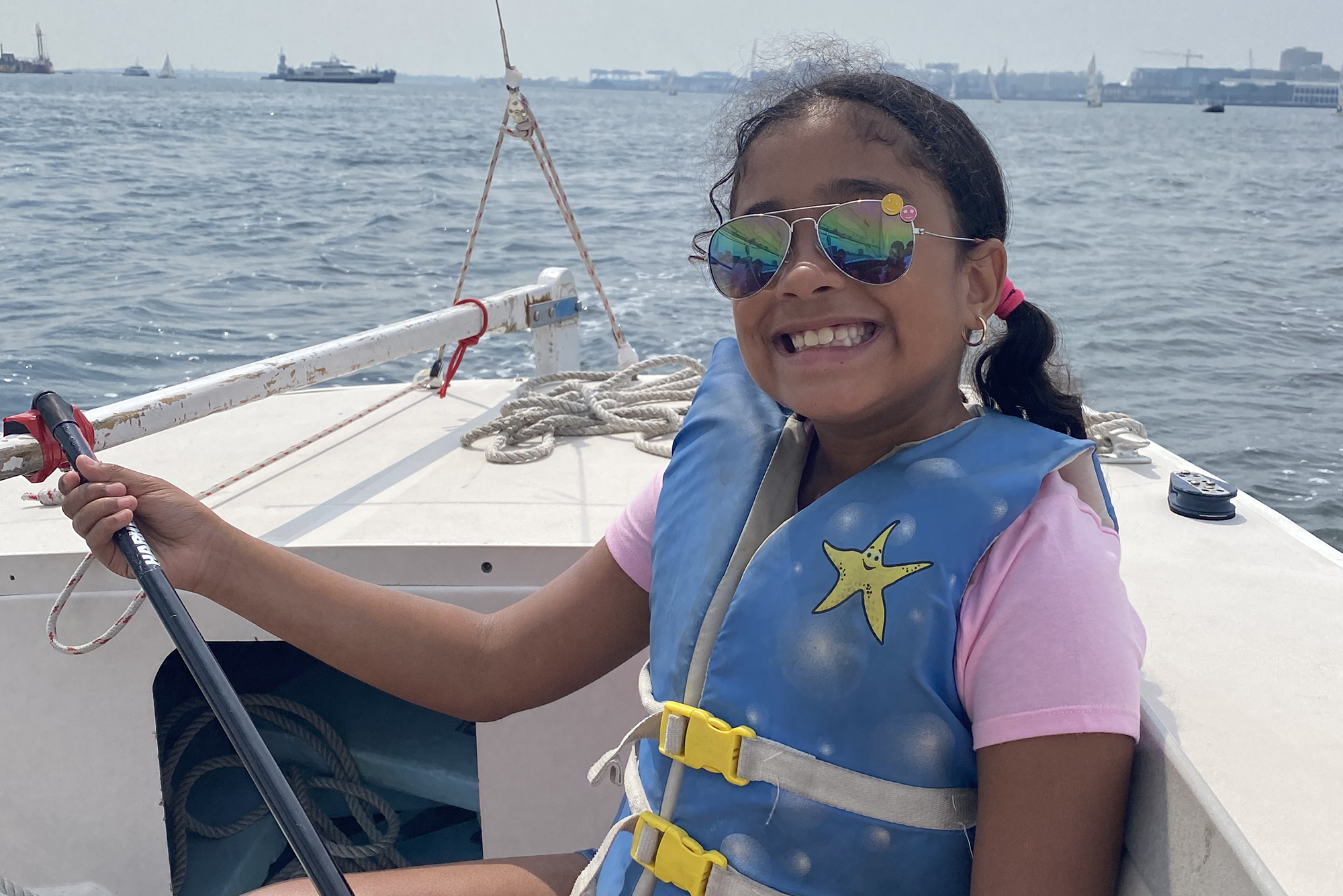 Join us for an evening of fabulous company, live music, amazing hors d'oeuvres from Gourmet Caterers, East Meets West, and Capers, drinks, a live auction, and stories from Courageous Sailing staff and kids!
This fall, the Courageous community is once more getting together to celebrate an amazing year of inspiring learning, personal growth, and leadership through sailing. Our annual summer pier event, Make-A-Mark, will return next year to our soon-to-be newly refurbished Pier 4. In the meantime, let's gather for a great time in support of Courageous kids!
Fund a Future
by Sponsoring the Gala or Making a Donation
Courageous36 is more than a fantastic party; all money raised through ticket sales, the live auction, and the Fund-a-Future campaign goes directly towards ensuring that metro Boston kids have access to incredible sailing and learning opportunities, no matter their financial background. We invite you to commit to Fund-a-Future by sponsoring this event, making an online donation, or raising your paddle at the gala. If you choose to donate in advance (by October 13) as an individual or as a company, your support will be honored at the event, as described below, and you'll have access to all kinds of perks next sailing season. If you donate after October 13 or raise your paddle at the event to contribute to the Fund-a-Future campaign, you'll receive the same sailing season perks in gratitude for your support.
Examples of what your donation can provide:
To express our gratitude for your donation, we will provide:
Staffing for the new Jamaica Pond Swim Sail Science academic summer program

Charlestown team of social workers, who help run programming, support staff and youth, and teach classes that help kids process feelings and face challenges

Staffing for school-day programming at one school
All benefits listed below, plus…
Lead mention in all Courageous36 publicity

Gala tickets included: 12
One of the 3 school buses that transport summer students in need

Staffing for a summer of marine biology and STEM education

An RS Quest sailboat for beginner dinghy students (includes maintenance support) 

One new safety boat to help monitor our expanding Jamaica Pond fleet
All benefits listed below, plus…
On-the-water team-building event for up to 15 people

Two-page ad in event program

Naming rights to a Courageous boat

Gala tickets included: 10
Full scholarships for 6 students to participate in 3 weeks of sailing and learning

Fall after-school STEM and sailing programming

Summer access to 1 of 2 Beneteau Figaro IIs, so students can experience high-performance big boat sailing
All benefits listed below, plus…
One-year Corporate, Family, or Individual membership

Prominent mention in all Courageous36 press releases, marketing, and signage

Three 2-hour sails or lessons for up to 4

Full-page ad in event program

Gala tickets included: 8
One summer of swimming lessons for every Courageous kid who isn't yet a confident swimmer

Two Instructor-In-Training positions, out of a total of 30+
All benefits listed below, plus…
Two 2-hour sails or lessons for up to 4

Half-page ad in event program

Gala tickets included: 6
Wages for one summer sailing instructor

New set of J80 sails, so students can learn advanced sail trim

Courageous T-shirt for every student
All benefits listed below, plus…
2-hour sail or lesson for up to 4

Gala tickets included: 4
Academic supplies for Swim Sail Science 

Whale watch tickets, to give Step 2 students a new perspective on marine mammals
All benefits listed below, plus…
A Spectacle Island day trip for 60 Swim Sail Science students 

An overnight Boston Harbor Island camping trip for advanced sailors to build teamwork and practice navigation
Recognition on the Courageous website and event program 

Gala tickets included: 2
We are grateful for your donation of any amount that feels comfortable. Thank you!