Courageous is here for kids
when they need us most.
For Courageous Sailing, 2020 started out like any other year: we hired a team of excellent staff members for the summer, laid out our curriculum and lesson plans, and prepared to enroll a new class of excited kids. And then, the reality of COVID set in. As we pivoted to address the challenges of the pandemic, it was more clear than ever:
---
Courageous is about so much more than sailing.
---
"My favorite memory was being able to see everyone, even if it was only on screen."
—Fiona, Courageous student
---
Morning meeting brings everyone together to warm up for the day.
---
Juan, an intermediate sailing student, shows off his acrobatic stack of hats.
---
---
Antonio, a Swim Sail Science student, displays his knot-tying handiwork.
---
Lava lamps are no match for Dominic, Step 2 instructor.
In June, an eager group of kids joined Courageous staff—not on the Courageous pier in Charlestown or at Jamaica Pond, but from their computers and couches. Morning after morning, they logged on for what they had come to expect from Courageous over the years: connection, learning, and fun! We shifted our focus to supporting our kids emotionally and building community during this traumatic and destabilizing time, while providing some much-needed summer fun. Students learned racing rules while competing in virtual regattas, wrote autobiographies, taught each other knots, played games, and were inspired by the stories of guest speakers. Swim Sail Science students practiced reading and math skills through an engaging environmental science curriculum, and took important steps in recovering from the academic losses many had sustained in the spring. Last, but definitely not least, we found a way to get our older sailors and Instructors-in-Training out sailing safely! In short, although this summer certainly looked different than others, the hallmarks of a Courageous summer remained strong, and 100% of 2020 Courageous kids, parents, and staff, want to return—we hope in person!—next year.
---
"I love the great design and execution of the youth program and its ability to adapt to these difficult circumstances and provide a degree of normalcy. Change nothing!"
—Doug, Courageous parent
---
Help keep Courageous Sailing a source of connection, learning, and fun for our kids for years to come.
---
---
Three RS Zest single-handed dinghies for advanced youth sailors
---
---
Two months of STEM programming this fall
---
---
Stipends for three Instructors-in-Training next summer
---
---
One week of summer programming for one child
---
---
One life jacket or 5 supply kits for fall science activities
---
---
---
Redesigning our programs to offer our students a meaningful summer experience did not come easy, and it has been a financially challenging year for Courageous. Our usual sources of income have taken a severe hit from the pandemic, just when we need the funding most. The economic landscape has been harsh for many of our families as well:

This summer, over three-quarters of our students needed scholarship support, a much higher percentage than usual.

We need to continue to ensure that financial struggle is never, ever a barrier to participation in Courageous programs for any family. And Courageous Sailing needs to be here to support our sailors, be it on the water or from our living rooms. Please, join us in making this possible as we rebuild and look forward to brighter days. If you are able to donate, even if you've supported Courageous already this year, your gift—of any size—will make a huge difference to Courageous and our kids.
---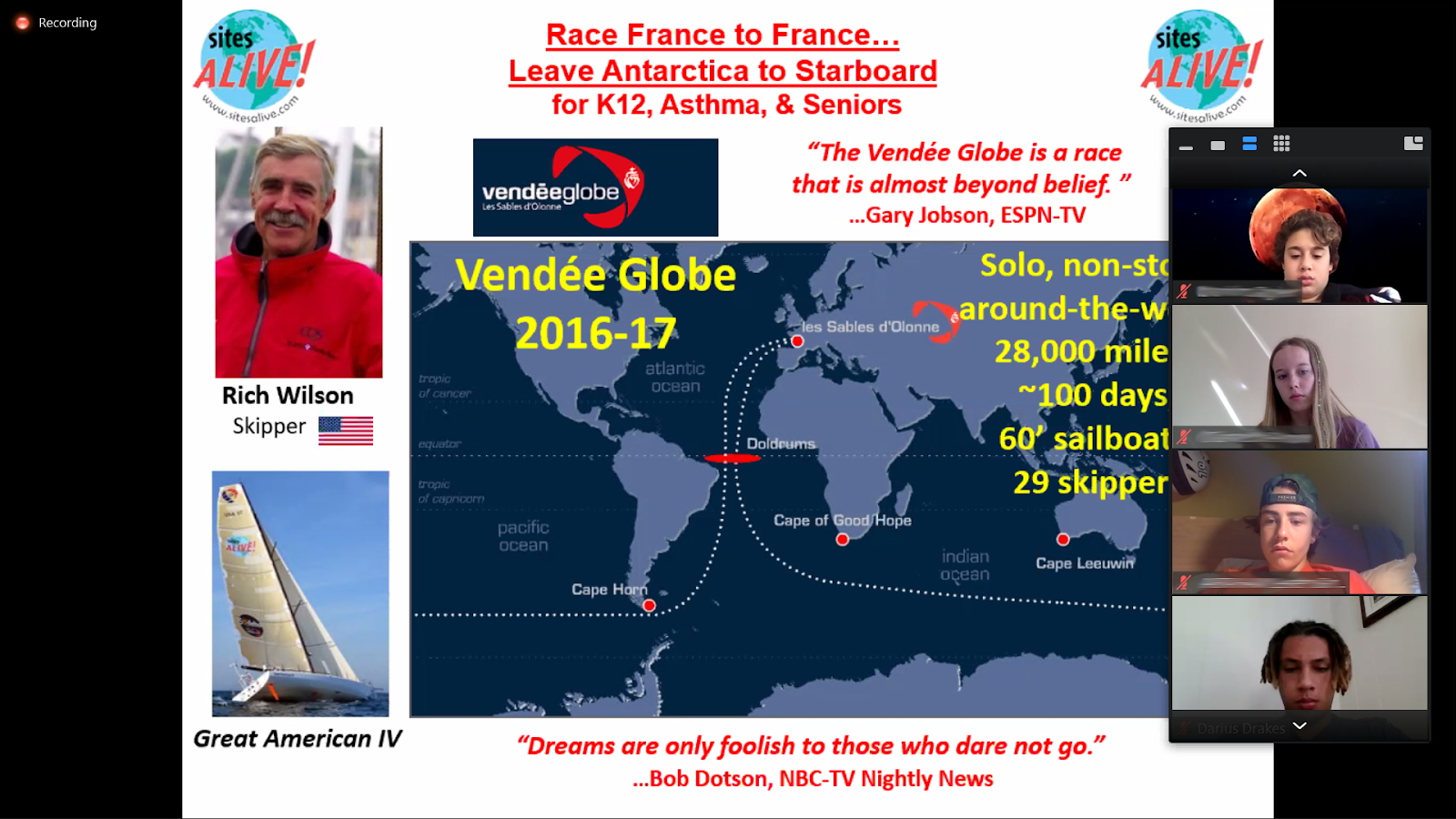 Singlehanded, round-the-world racer Rich Wilson thrills students with tales of his adventures.
Sincerely,

Dave DiLorenzo,
Executive Director
---
On June 16, 2020, nearly 500 people tuned into Courageous Sailing's first-ever virtual event: Courageous Together. Courageous kids, staff, Board members, and community leaders shared their perspectives on the impact of our youth programs and our mission to ensure equitable access to summer learning opportunities to a diverse group of kids. We updated our community on our response to the pandemic and the urgent need to support our students emotionally and academically during such a destabilizing time. For many, Courageous Together was an opportunity to share stories, connect with others who were missing Boston Harbor, and remind ourselves what Courageous is all about.
Want to catch the highlights?
Opening and closing remarks by Dave DiLorenzo, Executive Director - 11:49, 45:07
Mayor Marty Walsh on the importance of our programs - 19:03
Courageous kids on their experience:

Urvi - 15:52
Amir, Wassim, and Faris - 21:22
Danae - 30:42
Ryhan - 35:32
Jackson - 43:30

Jen Bodde, Education Director, on curriculum - 32:13
Principal Jason Gallagher on his school's partnership with Courageous - 39:00