Courageous Challenge Charity Regatta
Five nights of racing, catered food, and drinks on Pier 4
Monday nights in late May and June, seasoned and novice racers alike set sail off of Pier 4 in the Charlestown Navy Yard for some fast-paced, college-style, short-course keelboat racing.
Racers are welcome to sail their own boat, and for those new to sailing, Courageous skippers and instructors are available to take the helm or join the crew for on-the-water coaching. At sunset we return to the dock and gather under the tent for catered food and drinks and some of the best views in Boston. It makes Monday evening feel like Saturday night.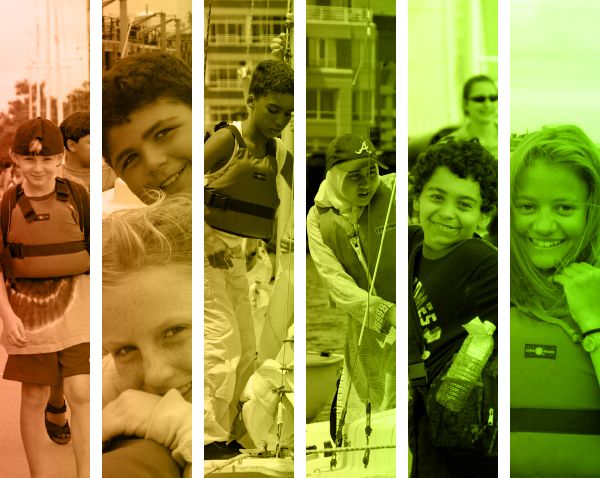 Courageous Sailing serves 1,000 children each year, most of whom would not otherwise have the opportunity to learn to sail or experience the ocean.
Our youth programs draw upon the rich natural and human history of Boston's waters. We seek to teach Boston's youngest generation about the importance of protecting these invaluable resources; the possibility of careers in maritime, scientific and educational fields; and their ability to learn from and enjoy this city's natural beauty to the fullest extent regardless of their socioeconomic status. For our students, our sailboats also represent a unique and powerful "classroom" that inspires the imagination, encourages personal growth, bestows positive life skills, and provides a social network from which students may draw energy and support for the rest of their lives.
Teams help send more kids out on the water every summer!
Each team competes with their company name and logo proudly emblazoned on their boat's jib sail, which remains on the boat throughout the entire season.
Sponsor six to ten children for the week-long Youth Program Sailing 101 course
Company logo on the jib sail for the 2018 season
20% discount on Learn to Sail Courses
Level 1 Corporate Membership from May 1st through October 31st
2018 Courageous Challenge Charity Regatta Results
Join the fun
Start the season off with your company team–enjoy waterfront access through October.
All participants enjoy a Courageous corporate membership, which makes it easy to keep sailing on Boston Harbor all summer long. Use your company's challenge boat as a weekly perk for employees, or commit a dedicated team to the cause and try to win it all. Either way it's sure to be a fulfilling way to spend a Monday evening while supporting Courageous' mission to provide sailing as a platform for life-long learning and growth to marginalized Boston youth.
2018 Corporate Challenge Registration