Week 4 recap- 2020/2021
Hello Frostbiters,
Have you dried out and warmed up yet? Week 4 was not for the faint of heart, but we still managed to have seventeen boats on the line for another great week of racing, despite some "less than ideal" conditions. We had light and variable winds. We had a ton of current ripping from left to right. And we had rain. Oh boy was there rain. It started coming down sometime during the first race, and didn't let up until everyone was already home and changed out of their wet clothes. But a little rain is not going to stop this fearless fleet from mixing it up on the race course.
The wind on Saturday started out of the Northwest, but quickly moved to ENE as we headed out to the race course. The wind velocity was usually somewhere between 5-10 knots, and it increased slightly as the day wore on. At least the temperatures were slightly more tolerable, with a high on the day of 48 degrees. Our course was set with windward marks in line with Piers Park in East Boston, and the leewards in line with Rowe's Wharf. We had a slightly shorter course than in previous weeks, and what with the weather, we had the harbor entirely to ourselves.
The day was certainly not without its challenges though. Our first had two general recalls. The aforementioned current made it very difficult to start properly. It seemed that if your bow was pointed just a little too high, it was easy for the current to sweep you across the line. The first start had about 75% of the fleet OCS. The second start was better, but there were still six or seven boats OCS and it was too hard to get a clear sight of the line. After the first general recall, we decided to fly the "I" flag, enacting the one-minute rule. That rule would remain in effect the entire rest of the day. Remember that when the "I" flag is up, any boat that is OCS within one minute of the start must round either the pin or the boat in order to clear themselves. Simply ducking the line is not enough, you must round an end of the line.
Final start of Race 1, boat 6 was OCS with ten seconds to start and is headed to round the boat end to exonerate themselves.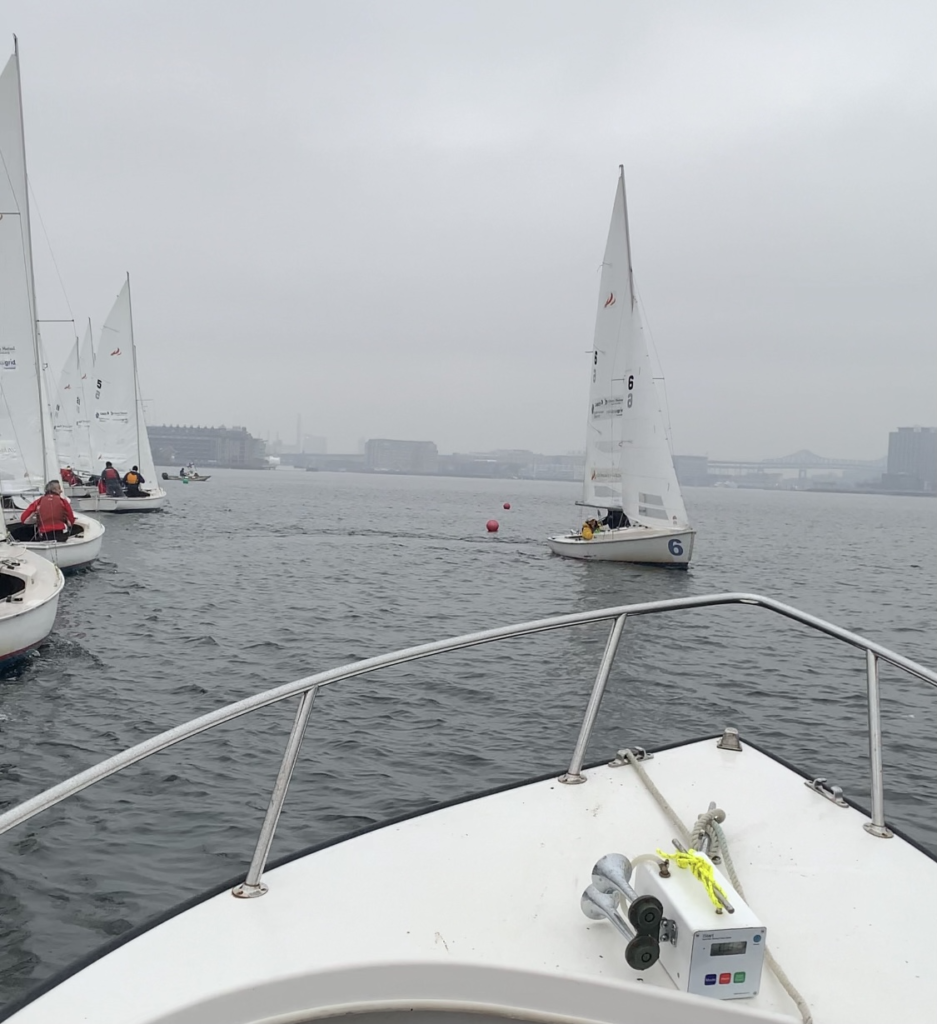 You can't see in the photo but Jen Bodde and Sudi Zhao in boat #15 had a great start at the boat end. Many of you may know Jen as our Education Director here at Courageous Sailing. But you may not know Sudi Zhao who finished our Instructor-In-Training program this summer and is now our newest official Youth Program instructor! They rounded the leewards in third place, but passed two other boats and finished in first. Great job Jen and Sudi!
Race 2 had zero boats OCS at the start. A left shift and a slightly too-high pin made for more of a pin favored start this time. The rain really started to come down about this time, making it pretty difficult to take coherent notes. I could see Matt Marston/Cheney Brand and Chip Terry/Dave Lucia battling for position at the pin end, and they both seemed to have a good start. John Pratt/Bob Coyle had a great start right in the middle. They would finish in second and Terry/Lucia came in first.
Between races 2 and 3 we attempted to square the line, and in doing so made it slightly boat favored instead.
Start of Race 3 - boats #9 and #5 were OCS at the pin end
However #9 (Cole Constantineau/Marcelo Pereira) and #5 (Chip Terry/Dave Lucia) despite being OCS, had a great comeback and managed to finish in 5th and 6th respectively. Dana Robinson/Matt Hebert came in first, and Marston/Brand came in second.
Race #4 would be our last race of the day. Throughout the day our visibility continued to decrease. From our spot in the middle of the channel it was difficult to make out the airport pier to the right, and Flagship wharf to the left. Luckily there was still enough visibility to finish our final race and get back safely.
The start of Race 4 was very boat favored with a big pile on that end. However a lot of boats still opted to start at the pin, probably due to the strong current pushing you to the right side anyway. All boats were clear at the start of race 4.
Start of Race 4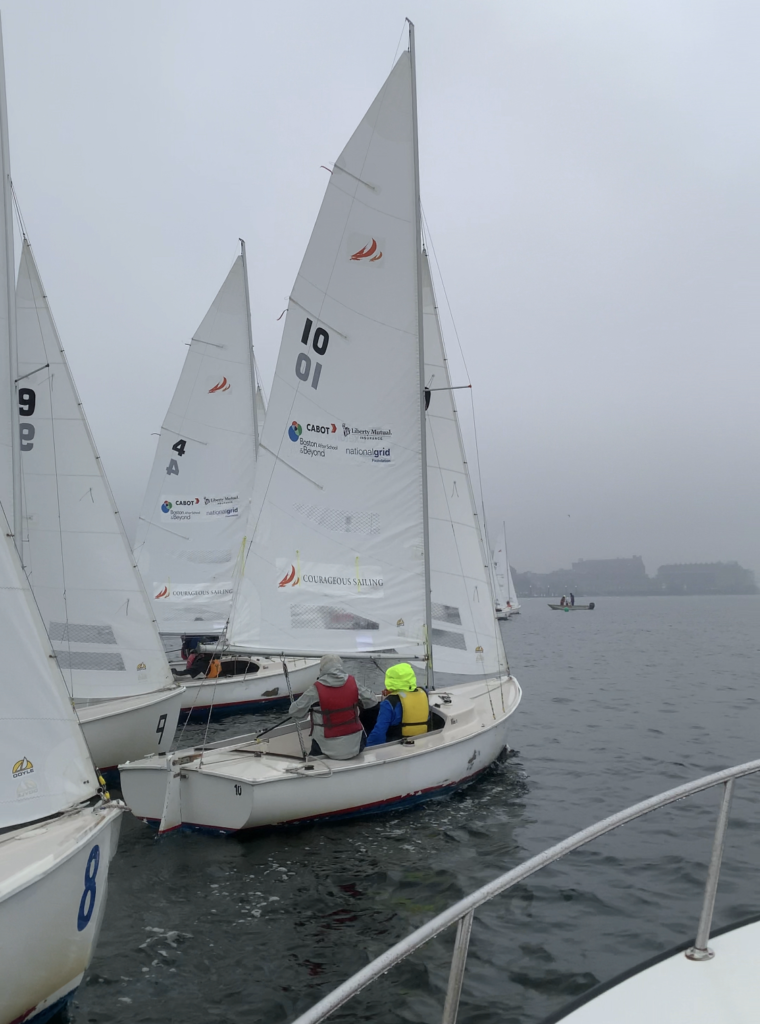 First place in Race 4 went to Carolyn Marsh/Niko Kotsatos, with Terry/Lucia in second, and Fred Baker/Mark Salvaggi in third.
Even just getting back to the pier was challenging on a day where nothing seemed easy. The strong outgoing tide and a very light headwind made it difficult for most of the fleet to make any progress and we ended up towing quite a few boats back.
I think I can safely say that everyone was pretty relieved to get back on the dock, and eventually into warm and dry clothes. It was certainly not a day for the faint of heart, and our sincere thanks to everyone who came out on such a gnarly day.
One of our fleet members, Suzanne Shepard of team Ski Bums fame, was unable to join us this past week, but she was able to snap a great photo of the fleet at about 2:15 pm. I think it pretty well encapsulates the day.
Congrats to our Top 5 finishers on the day...
Chip Terry and Dave Lucia - 12 points

Dana Robinson and Matt Hebert - 17 points
Carolyn Marsh and Niko Kotsatos - 18 points
Anne Marije Veenland-Lee and Amanda Lyall - 19 points
Matt Marston and Cheney Brand - 23 points
One half of the winning team, Chip Terry, was kind enough to share his thoughts on the day. They are as follows...
Despite the rain and the light winds, it was great to be out. Thanks to everyone for making it such a fun series. Next year I'm ready to be back at the bar after sailing--though the hot shower sure was nice. Couple of thoughts on today--and clearly no real insights.
1) Starts: Pay attention to your acceleration. I see a bunch of folks getting good positions and then blowing in the last 20 seconds by either accelerating too early or too late. For instance, there was a nice guy right above us one race who accelerated too early, tried to roll over the top and ended up over early. A luff at ~20 seconds followed by acceleration at 10 would have made for a clean start.
2) Watch for puffs: Today was all about staying in the wind. We spent a lot of time looking up course to see what is coming and how we can position ourselves for that. As a glasses wearer I could see little today, so Dave was the guy looking and that made a huge difference.
3) Downwind: Clear air--often on one side. Especially in light air wind shadows can be huge. Paying attention to them and getting clear if possible is really helpful. That often meant being either the most left or the most right.
4) Trim don't steer: With puffy conditions you tend to get velocity shifts. Wind hits, the boat is still going slow so you feel a lift. Once the boat accelerates it will feel like a header. Dave evened that out by playing the jib as puffs hit so I could avoid steering. Much faster. We also let the jib out occasionally when the tell-tales were plastered so I could see if we are too far off the wind. The jib movements were always just an inch or two.
5) Current changes the playing field: We were getting pushed left to right all day. Meaning that we had a lot more space to the Charlestown side of the course than it appeared. Upwind a couple of folks played that really effectively and went way out left to get a push (Dana). Other reached higher on Starboard downwind knowing they would be pushed back to the gate/finish.
Thank you Chip! And again thank you to all of you who came out. We will be back next week with hopefully drier conditions, although it looks like we will get a little snowfall before that. Good luck and have a great week!
Best,
Nate and the Courageous Frostbite Team