Week 8 recap- 2020/2021
Hello Frostbiters,
You may recall that after Week 2 I said something to the effect of "you can't really call this frostbiting." Well after this week, I don't think there is any doubt as to why we call this Frostbiting. On our most challenging day of the year by far, we had a full fleet with twenty-two boats on the line mixing it up in some seriously big breeze. Not to mention the fact that we had very chilly temperatures and a wind chill factor right around 20F.
All day long we watched the wind very carefully, as we were very close to our upper threshold. However the wind gusts never passed 30 (although we had a couple at 29 kts I believe...) and luckily there wasn't a huge difference between the overall average and the gusts. Here is the wind data for that day, taken from an anemometer at the end of Pier 4...
You can see right at 11am, as people were showing up to rig, the wind was pretty manageable. However right as we were heading out (1130-1145) is when the wind really picked up. Luckily we had made the decision to reef ahead of time at the dock, so boats were already prepared for it. This was our first time using a reef this season, and it seemed to go pretty smoothly for the most part.
The wind direction was NW for the day, and it remained pretty steady. Often there would be a bit of a lefty if you stayed close to the city. But you had to balance that with a bit of a wind shadow created by the buildings. Low tide was at 115pm, but the current wasn't really much of a factor in comparison to the wind. Our course was set in a different spot this week. With the big breeze, we opted to stay pretty close to home, and our windward marks were set just to the left of Pier 4 Charlestown. The starting line was tucked in the corner just north of Pier 1 East Boston, with an extra long line to accommodate the wind.
Start of Race 1
All the breeze created a big line sag for the start of race 1. Boat #12 (Bryan Lee/Anne Marije Veenland-Lee) were the first to cross the line. At the windward mark rounding, one of the marks was taken for a bit of a ride by one of the boats, but they were able to free themselves fairly quickly. At the leeward gate Boat #5 (Thomas Hornos/Scott Sheffer) and Boat #7 (Ryan Murphy/Josh Vogel) were pretty close, although Boat 5 had a slight lead. They split the gate with Murphy/Vogel going right and Hornos/Sheffer staying left. The latter boat would prevail in the end with Murphy/Vogel in 2nd and Veenland-Lee in 3rd.
Between Races 1 and 2 we had our first "Crew Overboard" of the season. This is something that we take very seriously, as you know the conditions in the winter can be pretty dangerous. Luckily for Team Grumpy Frenchman, the crewmember never lost contact with the boat and he was able to get back on board in under 15 seconds. They very smartly decided that they were done for the day, and sailed back in to get warm and dry.
Start of Race 2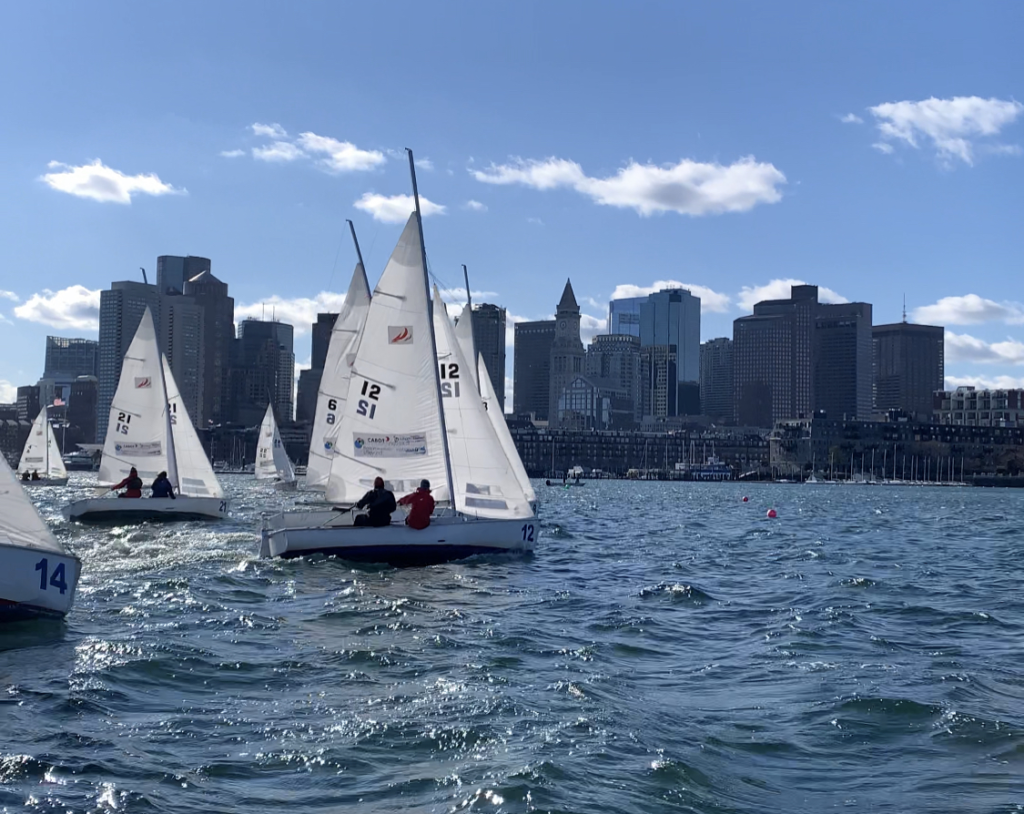 The start of race 2 had another big line sag, and more boats at the pin end, due to the wind being in a slightly left phase at that time. You can see Boat #12 (Veenland-Lee) with another great start. Boat #8 (Matt Marston/Cheney Brand) is right behind them. Those two boats would be the first two to the leewards, with #8 going left and #12 going right. But Hornos/Sheffer in #5 were the 3rd boat to round the marks, but passed both boats and finished with their second bullet of the day.
FYI during the downwind legs of both races 1 and 2, I'm pretty sure I saw a planing R19 or two out there. It was definitely the fastest I think I've ever seen these boats move.
I've uploaded the start of Race 3 to Youtube, and you can watch the video of it here. At the time of writing this email, they have yet to upload the HD version, but hopefully that should be available soon. My apologies for the shaky camerawork, also you can really hear just how strong the wind was. You'll also see boat 5 (Hornos/Sheffer) and boat 11 (Legler/Smith) with really solid starts at the boat end. You can see boat 14 cross the line with about 5 seconds before the start, but they were able to clear themselves pretty quickly afterwards. The bullet for race 3 went to Marston/Brand, with Hornos/Sheffer in 2nd, and James Pinder/Ian Taylor coming in 3rd.
At 1:30pm we decided that the 4th race would be our last race of the day. Each race took about 30 minutes, and we could see that the conditions were starting to wear on the fleet, both the boats and the people sailing them. Our last race was a Course 5 with an upwind finish right off Pier 4 at Courageous. Marston/Brand were forced to retire with a broken tiller extension right at the start of Race 4. With their departure and the 4 other boats who dropped out during the course of the day, we were left with 17 boats on the line. There was a lot more room on the line this time, and most of the boats were still a boat length or two from the line when the race started. Reade Everett/Dana Robinson finished in 1st. We had a very very very close finish for 2nd between David Chudzicki/Marcelo Pereira and Bryan Lee/Anne Marije Veenland-Lee. Chudzicki/Pereira were able to sneak across the line by a matter of inches and capture 2nd place for our final race.
Congrats to everyone involved in making it such a successful day and to our top 5 finishers for the week...
Tomas Hornos and Scott Sheffer - 8 points

Matt Marston and Cheney Brand - 14.67 points

Bryan Lee and Anne Marije Veenland-Lee - 16 points

Reade Everett and Dana Robinson - 19 points

Cole Constantineau and Manlio Lopez - 28 points
There are always a lot of risks involved when we decide to sail in weather like we had on Saturday. I think the fleet will agree with me that sailing in more breeze than we had Saturday would NOT be a good time. We were definitely at the upper end of our limit. The most important thing is that there were no injuries to anyone and the 2nd most important thing is that there was no major damage to any of the boats. Thanks to everyone for keeping a sharp eye out and staying safe. Also I want to thank the boats who decided to head in early, instead of continuing to race. It was an extremely challenging day out there, and if you don't feel comfortable for any reason at all (underdressed, new crew, never sailed in that much wind before, or just plain not having any fun) we strongly encourage you to head in. Your safety is our #1 priority while out on the water, and you yourself are the best judge at knowing when the conditions can get to be too much.
Also, if you haven't checked out Luke Leafgren's RaceQ data, it's totally worth checking out. We had two boats try it last week, and hopefully a few more will give it a shot this coming week.
So thank you to everyone for such a great day on the water. It was great to get back out there after all the weather-related cancellations we've had to make. This coming Saturday looks to be chilly again, but hopefully with a little less breeze. But we'll look more into that on Friday.
In the meantime I hope you all have a great week. Remember you can check out all the scores here, and I'll be back in touch again on Friday.
Best,
Nate and the Courageous Frostbite Team