Caribbean Courses
Bareboat and Coastal Passage Making available

US Sailing certification available

Advanced route planning and navigation

Advanced boat handling under sail and power

Gain cruising skills while visiting some of the most popular destinations in the Caribbean
Description
Maybe you are up for your next cruising adventure but can't wait for summer. Or perhaps you are ready to be underway and under sail in one of the best cruising grounds on the planet, where the air is warm, the water is clear turquoise and the breeze is strong and steady. Either way, Courageous's new cruising courses in the Caribbean have you covered.
The courses will be taught by Emilio who grew up in these waters; you will sail off the beaten path and discover some of the most beautiful coves in the world. It's not just about sailing, but discovering a wonderful world of cruising and life at sea.  
Prerequisites
Basic Cruising

or equivalent for the Caribbean Bareboat Course

Basic Cruising +

Bareboat Cruising

or equivalent for the Caribbean Coastal Passage Making course
Note: Students may enroll for Bareboat and Coastal Passage Making back to back.
Course Structure
Caribbean Bareboat Cruising: (5 days, 4 nights). The Bareboats will visit the USVI and the BVI. The curriculum is the same as our Bareboat Cruising course run in Boston, but oh, how sweet it will be to cover the material in the Virgin Islands, instead.
Caribbean Coastal Passage Making: (7 days, 6 nights). Here we will visit the USVI, BVI, and the Spanish Virgins with a fair amount of night sailing. We cover the same curriculum that's in our Boston Coastal Passage Making course.
In order to remove a leg of travel for students, we will be departing from St. Thomas for all courses, but still sailing over to the SVIs.  This move cuts down on the cost and time of traveling to the boat. The course will be run on a Sun Odyssey 49. The course fee includes the cost of provisions for the week, along with dockage, moorings, and operational costs. Transportation, any customs and immigration fees, dinners and drinks on land, and pre-course accommodations are not included. 
Important Travel Information
We must reach a minimum capacity of at least 3 participants per course. Please contact us following your course purchase before buying your flight so we can be sure we have reached capacity. Please feel free to contact Emilio with any questions: emilio@courageoussailing.org
Covid Requirements
Travel insurance is strongly recommended

All students must show proof of vaccination

All students must acquire a negative covid test before arriving on the island

Students will also have to follow all guidelines for leaving and departing the SVI's. Requirements are ever-changing and more information will be shared with students at least 2 weeks prior to departure.
Recommended Next Steps
Get your US Sailing Certification
US Sailing Certification for this course is offered at both the Bareboat Cruising and Coastal Passage making levels.
US Sailing Bareboat Cruising Curriculum
US Sailing Coastal Passage Making Curriculum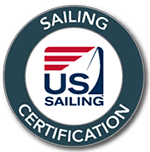 ---
For information on our refund policy, click here.