Learn to Sail Part 2
2-day, 12-hour course

US Sailing certification available

Build comfort with sail trim,




docking, & more

Build on the basics from Part 1
Description
In Part 2, we review the basics like tacking and gybing and practice more advanced techniques like docking under sail, crew overboard recovery, and boat handling skills.
By the end of the 12 hours, you will be eligible for a Courageous skipper rating and US Sailing Basic Keelboat certification. Please refer to the Learn to Sail Complete course description for more information. 
Bundle and save!
Our LTS2 course is available as a bundle with our Core membership. 
Skills and Concepts Covered
How to depower sails 

Reefing, heaving to, and anchoring

How to recover a crew overboard

Basic navigation
Recommended Next Steps
Course Structure
3-to-1 Instruction: In our traditional format, 3 students and 1 instructor sail together, allowing for plenty of personalized attention and teamwork. LTS Part 2 is held over the course of 12 hours, consisting of 2 six-hour, back-to-back weekend days.  Our weekday variation instead consists of 2 four-hour weekday afternoons, with 2 students to 1 instructor.
Get your US Sailing Certification
Our Learn to Sail curriculum aligns with the US Sailing Basic Keelboat Curriculum. Following our Learn to Sail course series of both Parts 1 and 2 (this course), you'll be well prepared for the US Sailing Basic Keelboat certification test, which we offer the ability to take for an additional fee. The US Sailing Basic Keelboat Certification is widely recognized by sailing centers.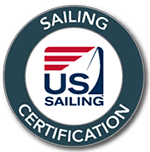 ---
We cannot reschedule lessons within two weeks of their start date unless we are able to fill the spot with another student. For more information on our refund policy, click here.