Open House Sale 2023 - EXTENDED THROUGH APRIL 30!
Open House might be over, but the savings are not! As a thank you to everyone who joined us on Saturday--and to make up for the fact that the rain prevented us from sailing on Sunday--we are extending our Spring Sale through this Sunday, April 30.
That means that 2-hour sails for up to 4 people are only $95, and memberships, Learn To Sail courses, and lessons are up to 10% off. Take advantage of these deals, and set yourself up for a fantastic summer of sailing!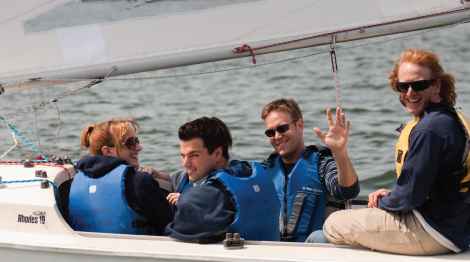 Private Lessons & Harbor Cruises
The perfect gift for the 2022 season!
Whether you are purchasing for yourself or someone else, you can't go wrong with a 2-hour personalized experience on Boston Harbor.
The Rhodes 19 is backbone of the Courageous fleet with 27 Stewart-made keelboats and counting. Stable and easy to handle, they offer a fun, comfortable sailing experience for sailors of all calibers, from novices to seasoned one-design racers.
If fast, friendly, easy-to-sail boats and Harbor Island cruising are calling your name, this is the membership for you! The Mid-Fleet Cruising membership gives you access to our four J80s and a Tanzer.
For many, the Cruising Membership is the most coveted membership tier. The cruising fleet gets you out farther, faster, and for longer. Our 4 30'-35' boats have at least 2 berths and a head aboard, allowing you to cruise in comfort. Take a day trip to a harbor island or pick up a mooring for a night at sea. Memberships go quickly, so get yours before they are gone!
This is the best way to learn the basics! This course covers all you need to know to sail on your own at Courageous as a member. All Learn to Sail courses are taught in Rhodes 19s and are suitable for most ages and abilities.
Bundle & Save! Purchase our Learn to Sail 1 & 2 together and you'll save over $100. Add in a membership to save more than 50% on your membership price!
Ready to get out on some larger boats? Or maybe sail a little faster? We have some great deals on courses that will introduce you to performance sailing.
Meet the J80 is our aptly named, one-day clinic that will help you either get comfortable on a different boat after learning to sail on our Rhodes 19s or show you how to introduce this sportboat to others. Also discounted for Black Friday, our Mid-Fleet Performance 1 course will give you a firm foundation in Performance Sailing as well as prepare you to take our Mid-Fleet Cruising checkout.
Everything you need to sail bigger boats with confidence! All courses are taught on one of our cruising boats, ranging from 30' to 35'. Start with the basics-- we recommend the First Mate course!--then work your way up to becoming Bareboat certified and ready to take on a week in a chartered cruising boat down south next winter.
Private Sails, Cruises, and Additional Sailing Courses
Whether you're looking for an intimate date night far away from the crowds or a customized lesson to brush up on your skills, we've got you covered. Join us for 2 hours on the water in 2021, and we promise you'll leave stress and worry on the dock.